Engage from the Stage: Five Conference and Presentation Interaction Tools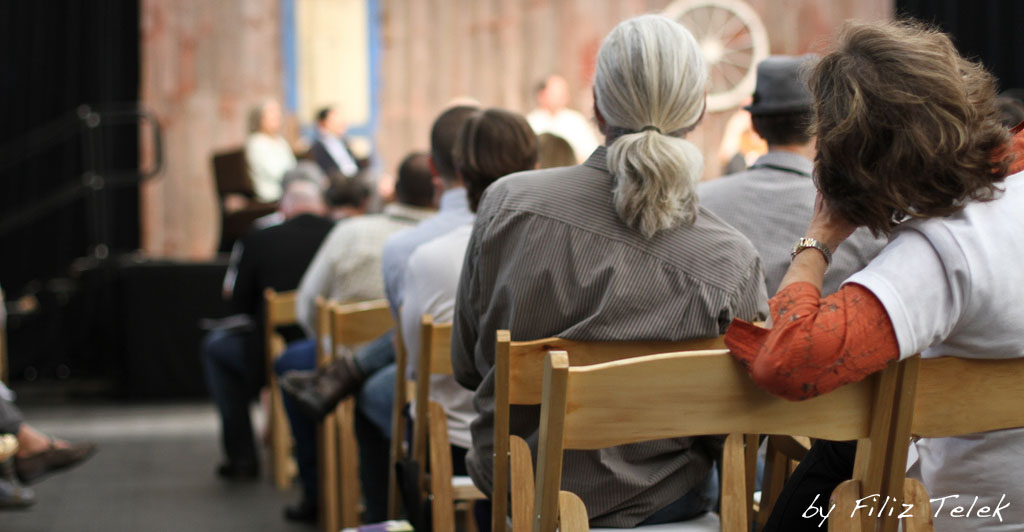 Author, Myan Baker, Senior Partner of Participant Centered Transformation.
Julie Sammons of San Francisco Biomimicry announced that everyone is tired of the Sage on the Stage presentations.  We were at David Fox's dazzling Leed Platinum Victorian house for his Interdependence Day Party with delightful, forward thinking people in the sustainability field. A 3-D web designer and gamer agreed, stating that conferences covering the leading technologies continued to use the same old boring panel PowerPoint presentations.  There is a growing awareness that everyone in the room has a contribution to make. Many people are at work searching for a new archetype and experimenting with new technologies to help bring it forward. Our passion at ParCenTra for decades has been to transform the old pattern of Sage on the Stage to a high engagement archetype.
We have been charging up the learning field and resonating energy back and forth in the room.
Consider these five ideas that you can use as a presenter to get the interactive energy flowing. If you start this way, you are likely to have a more successful, perhaps even quantum leap experience, with your participants.
1.  Who Is Here 
Quickly find out who is in the room, ask for a show of hands, or ask participants to stand up and sit down in response to a question. Some questions we like:
Who traveled more than 100 miles or ___hours to get here?
How many people:  take photographs, write poems, sing, sculpt, ride bikes, ski or surf, etc. Ask these questions one at a time.   (Gives you a different side of the audience)
How many people have been to more than x countries?
Who would enter a contest for a seat on the space shuttle?
The response to these questions can give you a quick demographic read relevant for shaping your remarks, and possibly to refer to later.
2.  How do you relate to the topic?
You may also ask a question that refers directly to what you are going to focus on in your presentation. Ask for a show of hands, shout out or stand up to reflect understanding.  Some questions:
Have you ever thought about this topic?
Is it something you care about?
Is it something you can apply right away?
You can also use this as you present different sections, and then even ask who understands this point?
3. What do you think? 
Ask people in pairs or trios to discuss some question for a short time (buzz groups).  It is good to let people know how you will signal them to re-focus (raise your hand, ring a bell, etc.).  It's also effective to be sure that everyone who wants to be in a pair has a partner and encourage them to introduce themselves.  Some questions we have used:
How would you apply this information in your field?
Have you heard of another place this has been applied?
Is there some aspect of this topic that you find inspiring (or challenging or surprising or moving)?
Then ask for a few examples.
4. Can you move – can you laugh?
It is possible to use movements as transitions to topics or as energizers or both.  Two examples:
We are about to stretch your thinking. You then do a series of stretches. (A face stretch usually gets people laughing).
We are going to try to harmonize some distinct points.  You can assign a section of the room a sound and have them practice.  Then assign another section another, and so forth. You orchestrate them so that it becomes a round as each comes in, gets louder or softer or faster or slower at your direction and then stop on cue
Tossing light objects around the room.
5.  What's your answer?
While there are digital methods to use – e.g. texting your thoughts by cell phone, here is another example:  Sarah Susanka, a presenter at a West Cast Green Conference asked her participants to write their dream or interest on a 3 x 5 card. We categorized them and posted them on a wall in the Conversation Café so people could connect with one another.
There is an archetype emerging, one that evokes and includes the intelligence of every participant. The person who uses these techniques is no longer the Sage on the Stage. We give this new interactive presenter a proactive name: Engage from the Stage.
Read original article at ParCenTra.com
Author, Myan Baker, Senior Partner of Participant Centered Transformation. You can reach her at Myan@ParCenTra.com
Myan Baker specializes in conceptualizing and implementing sustainable systems strategies, models and processes. Her work has taken her into over 400 organizations, networks and alliances. Myan is noted for her capacity to focus on the future and to infuse relevant new ideas and creative methods into the implementation of change initiatives. She has designed and implemented cluster-based sustainable development strategies in North Dakota, Tabasco, Mexico and developed a strategy for sustainable rural development for regions in Mexico.